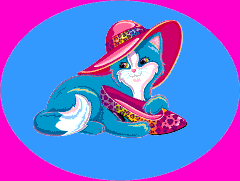 Furonica, the kitten
MOST LIKELY TO BE FOUND: Hosting extavagant tea parties and fancy social functions.
PERSONALITY: Miss Furonica is the "hostess with the mostest"! She is an expert in conversation and manners. Art and music are her passion and she is very well educated in both!
LIKES: Caviar, fashion shows, planning parties, traveling.
DISLIKES: Rudeness, Clutter, Heavy Metal music.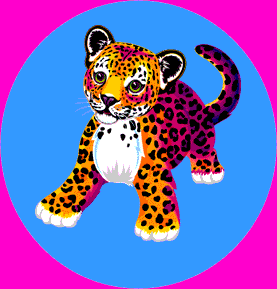 Hunter
MOST LIKELY TO BE FOUND: You'll usually spot him the lush topical forest of the Fantastic World of Lisa Frank.
PERSONALITY: Hunter is a real charmer. He can brighten even the dullest of days. With his creative ways, colorful pesonality and zest for life there's never a dull moment with Hunter around!
LIKES: Colorful tropical flowers, a good challenge, banana cream pie, being busy.
DISLIKES:Boredom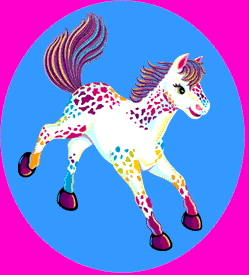 Lollipop: Rainbowchaser's little sister
WHERE YOU MIGHT FIND HER: Any where her big sister is.
PERSONALITY : She is very curious and pesters Rainbow Chaser constantly for answers to her questions. Her curiousity can sometimes get her in trouble, and occasionally she can be found horsing around, but she is usually a very well behaved little pony!
LIKES: Discovering something new, going for long walks and eatting anything with lots of sugar!
DISLIKES: Bedtime, when Rainbow Chaser says" Just because" to one of her questions!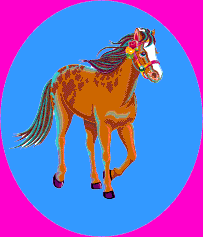 Rainbow Chaser
WHERE HE LIVES: A lush grassy pasture in the Fantastic World of Lisa Frank(Magicful Meadow), -corral, ranch, secret pond.
PERSONALITY: Loves to laugh, gentle, very thoughtful, introspective, shy.
LONG TERM GOAL: To become a race horse.
HOBBIES: Day dreaming, running, dancing is her secret talent- she practices her fancy footwork at night.
LIKES: Smelling Fragrant flowers, eating sweet apples, feeling the wind whip through her mane.
DISLIKES: Bees, rainy days, feeling left out, show-offs.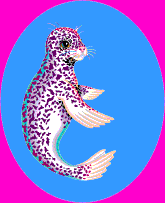 Sandy the Seal
A secret playground lies deep in the hidden waters of Sealpup in Rainbow Reef. The curious seal pup is fascinated with the brilliantly colored exotic fish that live there. In fact, everything in the reef is so colorful, the reflections are cast above the water, creating a rainbow that lights up the sky above the lagoon. The seal pup is lucky enough to know the secret of Rainbow Reef and he loves to share it with anyone who appreciated all the wonders that lie beneath the sea.
WHERE HE LIVES: He lives at the Rainbow Reef, could be found on the beach or at Fantasea Castle.
PERSONALITY: He is very curious and intelligent. He exudes innocence, He's extremely sensitive, but very laid back. He tends to analyze everything.
LONG TERM GOAL: To guard the secret of Rainbow Reef.
HOBBIES: Hunting for sand dollars, counting coral.
DISLIKES: Having his feelings hurt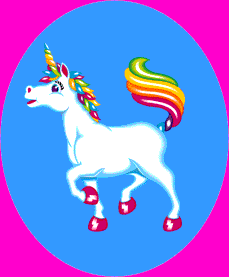 Markie, The Unicorn
WHERE HE LIVES: In the clouds above the Fantastic World of Lisa Frank.(Airfluff Island)
PERSONALITY: He's happy-go-lucky. He loves adventure and is not afraid of anything. Loves competition and striving to be the best he can be. He's very bright and always learning new things.
LONG TERM GOAL: To be a great explorer. To go where no unicorn has gone before.
CHARACTER'S HOBBIES: making up games, collecting stars, cloud hopping.
LIKES: Rainbow colors, games, butterflies, discovering something, dreams.
DISLIKES: Hesitation, Bad smells, Bullies